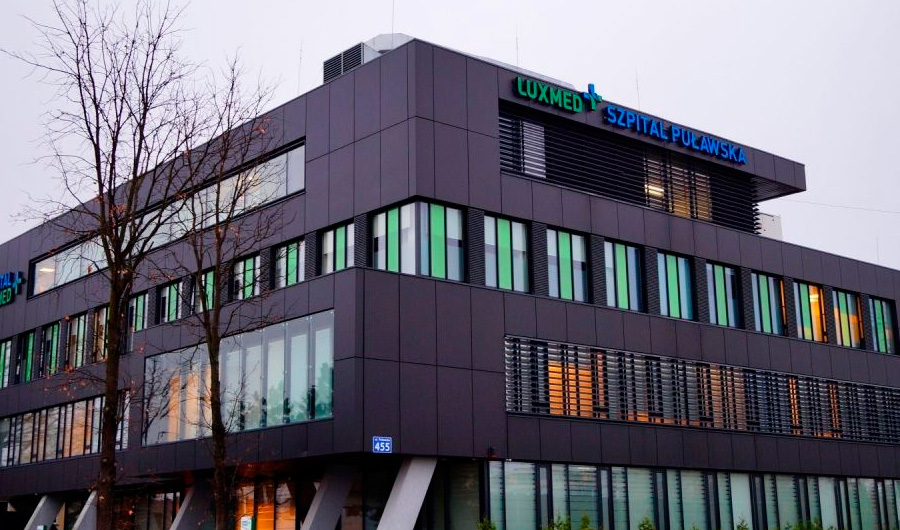 Leading and expert hospital
For more than 20 years, the hospital has been caring for the health of our patients. Every day they do their best to make sure that the people in their care are satisfied with the services they provide, feel safe and know that they can count on the help and advice of experienced specialists.
Because of the trust our patients have shown us over the years and their daily, professional and involved work, today LUX MED Group can proudly claim to be the leader in private medical services in Poland. More than 1,600,000 patients are currently under its care, with services available to them in more than 1,700 state-of-the-art facilities (almost 200 clinics of its own and at the company's site, as well as nearly 1,600 cooperating facilities located throughout the country). Nearly 5,000 physicians from a few dozen specializations remain available to patients.
Its leadership position forces the hospital to undergo constant development and improvement in many areas. That is why they continue to implement solutions that increase patient satisfaction with their services.
Along with the constant improvement of the competencies of their medical staff, they also introduce a number of technological facilities, making it easier for our patients to use the LUX MED Group offer. With them, you can, among other things, manage your health in a simple and convenient way, for example, collect the results of laboratory tests provided with an online doctor's comment and make electronic bookings for you and your children's appointments, with a selected specialist and at an opportune time and place, through the Patient Portal.
Professional medical team
The LUX MED Group Medical Centres provide patients with a team of more than 4 900 experienced specialists representing 40 medical specialties. Their team includes more than 1000 professors and medical doctors. The priorities are professionalism and high quality of services. All physicians constantly strive to improve their professional skills. They participate in numerous congresses and conferences, for example, international seminars on patient safety. Every patient who comes to LUX MED Medical Centers in Poland gives a trustworthy credit, and this creates an obligation on their part. This is why the hospital makes every effort to provide patients with access not only to the best diagnostic facilities, but also to the most prominent medical specialists.
The factual supervision of the work of physicians is carried out by the Scientific Council of the LUX MED Group, composed of professors and associate professors who not only hold honorable degrees, but also have extensive experience and impressive scientific achievements. The Scientific Council establishes the rules of consultation that apply to individual medical specialties, identifies and evaluates standards of medical practice for certain diseases and conditions. The standards developed by the Scientific Council guarantee the best quality of medical services provided in the facilities.
The Hospital agrees that health is priceless. Unfortunately, there is a time in everyone's life when something starts to bother us...
We are fortunate if the complaint can be cured quickly and the health problems are temporary. Bad luck if the body cannot combat the condition and surgical intervention is required. In order to meet the demands of patients requiring hospitalization, the LUX MED group is opening a hospital. The facility is located in Warsaw, at ul. Puławska S455. The hospital includes two operating rooms and a modern diagnostic base with computed tomography and X-ray units.
Consultation and diagnosis
The consultation and diagnostic process is a very important element in patient care. Its goal is to prepare the patient safely for surgery. To facilitate this process, we present a mini guide "How to register for surgery".
We are aware that the choice is difficult if you do not know any of the surgeons. In such a case, do not hesitate to contact General Surgery, where you will receive support and all the necessary information about the name and specialty of the surgeon and the admission schedule.
Consultation with the surgeon
During your first consultation, you will meet the operating surgeon. During the visit, you will have the opportunity to discuss the date and conditions of surgery, the treatment plan, and the type of surgery: the specificity and method of surgery, and postoperative care. Your surgeon will perform a prequalification evaluation and refer you to additional lab and diagnostic tests needed before surgery, and ask you to register for anesthesia.
Talk to the anesthesiologist
The anesthesiologist will take your medical history, which is required for additional qualification for surgery. You will also receive take-away materials, which contain lots of important information and answers to frequently asked questions.
After qualification and additional testing, all you need to do is wait until the date of surgery, which will be confirmed by phone. On the day of surgery, we ask our patients to arrive at a previously agreed upon time and remember to make arrangements with the surgeon and anesthesiologist (e.g., minimum fasting time before surgery and other instructions given during the consultation).
It is very important to bring your personal belongings, such as slippers, gowns, pajamas, towels, and completed questionnaires home from the doctor. Patients undergoing surgery under the National Health Fund (NFZ) plan should bring their RUM health book and insurance card or pensioner card.
Admission to the LUX MED hospital
When you enter the hospital, you are in the hands of nurses and medical professionals. Each staff member will make every effort to make your hospital stay as comfortable as possible.
At your disposal you will have patient care nurses, attending physicians and/or on-call physicians and other staff. Their mission is to facilitate patients during the difficult times in their lives. They believe they will keep good memories of your stay at the LUX MED Group hospital.
Remember: your care after surgery does not end when you leave the LUX MED Hospital building.